Teen Writing Contest
Congratulations to the 2021 winners!
We asked teens to write a short story or personal narrative on "Life in the Pandemic." Read the winning stories in the Teen Writing Contest e-book below. This contest was presented by the Upper Dublin Library, Sandy Run Middle School Library & Upper Dublin High School Library and supported by the Friends of UDPL.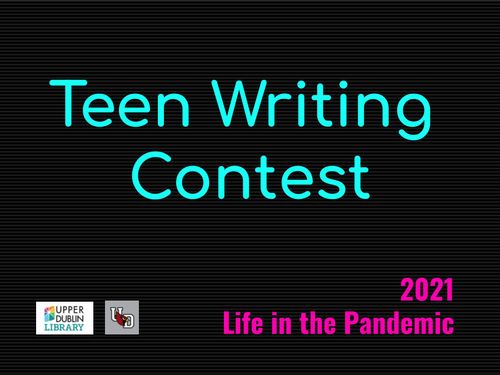 WINNERS
MIDDLE SCHOOL (Grades 6-8)
1st PLACE – Diary of a Boy Going Insane by Christopher Grivner
2nd PLACE – Found in Absence by Natasha Dixon
3rd PLACE – The Hardest Thing During the Pandemic: Being Asian American by Isabella Park 
HONORABLE MENTION – Diary of a Covid Teenager by Emmanuelle K.
HONORABLE MENTION – A New Normal by Lucy S.
HIGH SCHOOL (Grades 9-12)
1st PLACE – Her Deepened Cage by Rowan Blankemeyer
2nd PLACE – Looking Back on Covid by Makayla B.
3rd PLACE – Walking by Alyssa Levito 
HONORABLE MENTION – Serotonin by Sydnee O.
HONORABLE MENTION – Dear Diary by Kayla Misher 
Thank you to all who entered!
Submit your work for the Teen Poetry Contest! Submissions dues April 30th, 2021.